DO YOU DRESS FOR CPR SUCCESS?
You are a CPR professional, and your classroom rig should reflect that. The new ManiVest CPR Manikin Vest from MCR Medical brings next level CPR training and protects your investment. Check out this exclusive accessory that sets you apart from the competition. 
FEATURES
We designed our vest for adult-sized manikins with several unique features. 
The custom fit protects your manikin body from dirt and damage during travel or storage (also appropriate for most small/ child sized manikins).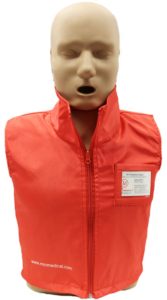 The vest easily unzips to begin practice compressions and access feedback monitor (if applicable) without undressing.
The see-through pocket can hold your business card, or add a little whimsy to your class by having students "name" the manikin and place a name tag in the pocket.
Continue reading CPR Manikin Makeover: ManiVest Adds Value, Style