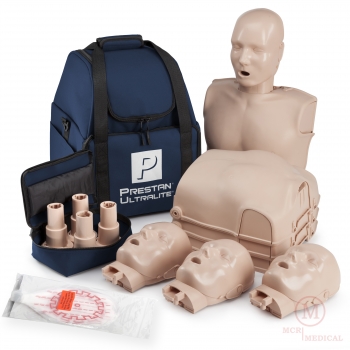 Would you like to win a 4 pack of Prestan Ultralite Manikins? 
Welcome to the first ever "Me and My Manikin" photo contest! The objective of this contest is for the contestants to spend a day with their CPR Manikin and photograph it. So get your phones or cameras ready and take a photo of you and your CPR manikin dressed up. The winner will receive the unparalleled Prestan Ultralite manikins.
Prestan develops and markets medical training products serving the needs of the Emergency Response and Healthcare Markets worldwide. We are a proud distrubutor of their products which inlcudes CPR manikins with or without feedback devices, AED trainers, lung bags and face shields. We also provide support for all of their products including handling all warranty issues inhouse. 
Features of the Prestan Ultralite manikin include the following:
Fast and easy set-up make the Ultralite great for traveling instructors.
Stackable torsos and heads generate a compact package for transporting multiple units.
Clamshell torso opening provides quick access for the easy-to-insert lung bag.
Realistic skin resists dirt, grime and grease.
Adequate upper chest sizing facilitates AED pad placement and training.
With the visual anatomy landmarks you are able to reinforce proper hand placement for compressions.
Head-tilt illustrates how to open the airway and allows each student to observe a true chest rise when proper head-tilt chin-lift technique is used.
Life tested to a half-million compressions.
The Prestan Manikins are easy to clean and capable of being decontaminated per CDC guidelines.
Prestan manikins include a three-year factory warranty against defects in workmanship.
For more details on the Prestan Ultralites and other Prestan products, please visit our website at mcrmedical.com. We would be happy to answer any questions or help you place an order. You can also call us at 614-782-2100. 
Contest end 07/21/2017. Good luck!