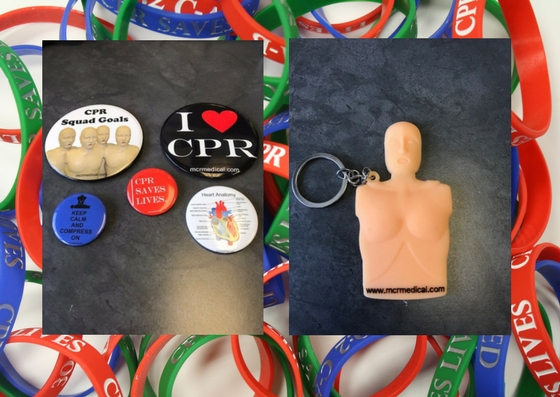 We have a wonderful product development team who has been working hard to come up with some fun and unique items to not only bring awareness to CPR training but help you grow your business as well.
Who doesn't like a free gift after any training or class. Here at MCR Medical we offer some of the best novelty gifts for CPR training including our new CPR training manikin keychains. We have named them the Manikey. How fun is that. 
We also have an assortment of buttons pictured above including Keep Calm and Press On and CPR SAVES LIVES. With our low pricing and free shipping you will want to order them for each and every student! 
Our wristbands have become a customer favorite. These come in blue, green or red with 2 different sayings including CPR SAVES LIVES and CPR TRAINED 30:2. 
If you would like a free sample of any of our novelty items please call us at 614-782-2100 and mention this blog post.
Stay tuned to MCR Medical for new items coming soon.