DO YOU DRESS FOR CPR SUCCESS?
You are a CPR professional, and your classroom rig should reflect that. The new ManiVest CPR Manikin Vest from MCR Medical brings next level CPR training and protects your investment. Check out this exclusive accessory that sets you apart from the competition. 
FEATURES
We designed our vest for adult-sized manikins with several unique features. 
The custom fit protects your manikin body from dirt and damage during travel or storage (also appropriate for most small/ child sized manikins).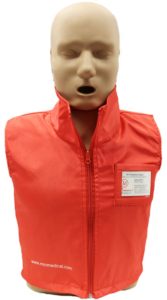 The vest easily unzips to begin practice compressions and access feedback monitor (if applicable) without undressing.
The see-through pocket can hold your business card, or add a little whimsy to your class by having students "name" the manikin and place a name tag in the pocket.
UP YOUR GAME AND PROTECT YOUR INVESTMENT
There is nothing else like this vest on the market today. Sleek and professional, this CPR accessory combines form and function to set you apart from other instructors, increase referrals and engage students. 
No more old T-shirts that don't fit and get in the way! Accessorize with our unique and affordable ManiVest and up your CPR instruction game today.
THAT'S A GREAT DEAL!
Right now, ManiVests are 40+% off during our WEBSITE SALE:
Single vest $6.95 (was $11.95) or four-pack of vests $26.95 (was $39.95). 
And for added savings, enter promo code FREEVESTS at checkout to automatically receive 1 free vest when you have a single or four-pack of manikins in your cart.
READ ALL ABOUT IT
Don't forget to visit past blog posts for info  about our other CPR training products and helpful trainer tips:
Are you ready to teach CPR Training?
Rub-a-dub-dub, but don't put that CPR manikin in the tub!
Prestan Manikins Equal the Best CPR Training Experience