Prestan Manikins come in 3 models to choose from: Ultralite, Professional, and Series 2000. For many new customers, it is difficult to know which will work best for them. We've put together a helpful guide to see the differences in each model and assist in making the best decision for you!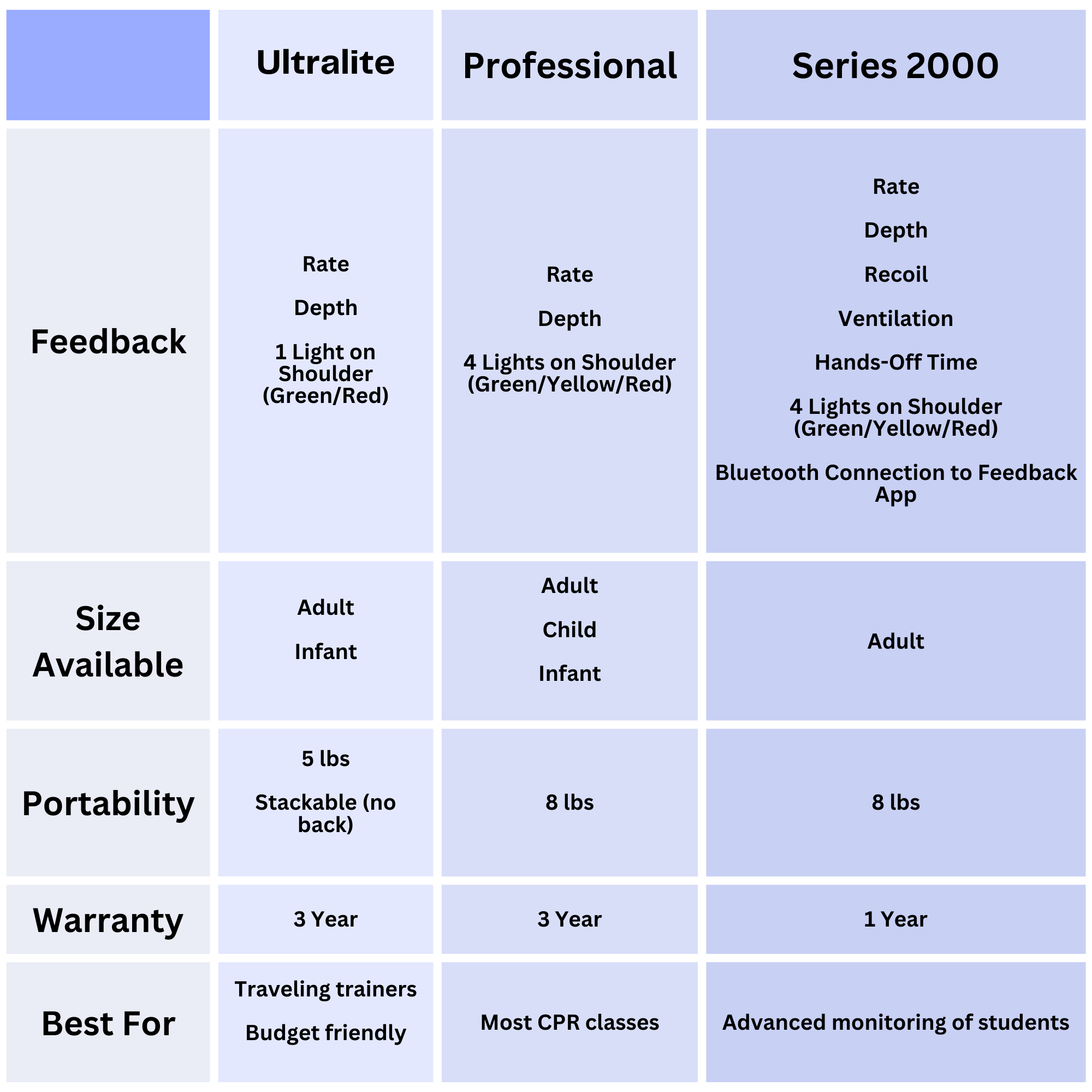 Ultralite
The Ultralite is the lightest and most economical of the manikins. It was created to be lightweight, easily stored, and budget friendly. There are no backs on these Manikins, making them stackable on each other. For this reason they take up the least room when stored.
They have Depth and Rate Feedback, through the 'click' on compressions in the piston, and 1 light that attaches to the shoulder. The Ultralite come in 2 Sizes – an Adult and Infant model. All Ultralite models have a 3-year warranty.
We suggest these for people who are constantly on the go, having infrequent classes, or needing a budget friendly option. 
Professional
These are the most common and widely used. It is created to be hardy, long-lasting, and best replicate CPR scenarios. Each manikin comes in it's own carry bag for storage, or a 4-pack comes in a large carry-bag that fits them all.
They offer Depth and Rate Feedback, through a 'click' on compressions and 4 lights in the monitor on the shoulder. The Professional comes in 3 sizes – an Adult, Child and Infant model. All Professional models have a 3-year warranty.
The Professional is suggested for most CPR/AED training classes. 
Series 2000
The Series 2000 is the latest Prestan Manikin model. Created to offer Advanced Feedback, the Monitor gives data for Depth, Rate, Recoil, Ventilation, and Hands-off Time. It all connects via Bluetooth to the Prestan App, offering the ability to record and track student progress/technique. 
The Series 2000 currently comes in one size – an Adult. All Series 2000 have a 1-year warranty.
This is a great option to kick training up a notch and give students Advanced Feedback in the palm of their hand. Offering the same body as the loved Professional Series, but with greater feedback capabilities, the Series 2000 is a fantastic option for most CPR/AED training classes. We suggest this for instructors looking for in-depth training and without budgetary confinements. 
As always, let us know any questions you have about choosing the best Manikin for you! We are here to help you succeed!