Hi Everyone! We have been getting a lot of questions about the new AHA Guidelines that will be changing in 2019. I thought I would write a quick blog to address some of your questions regarding CPR Feedback Manikins.
If you already know about the CPR Manikin Feedback devices and are interested in seeing the various options we carry you can check out our CPR Manikins page. 
If you'd like a little more information feel free to keep on reading!
What are CPR Feedback Manikins?
A CPR Feedback Manikin allows both you and your students to receive instant updates during training. The two devices we'll talk about provide feedback on compression depth and compression rate. 
Why do I need a CPR Feedback Manikins?
On August 15, 2017, The American Heart Association announced that they "will now require the use of an instrumented directive feedback device in all course that teach adult CPR skills". 
When do I need a feedback device?
This policy will be effective January 31, 2019.
What kind of CPR Feedback Manikins are there?
The Prestan Manikins that MCR Medical carries specializes in two separate feedback device options.  Check out Prestan's Press Release about the AHA directive, as it will provide you with a little more detail about their mission to keep you compliant. 
The feedback options BELOW are the only ones that are actually going to be required in the new guidelines.
The Prestan Pro Series is either already compliant with both directives, or at least  can be upgraded at a later time. 
– The compression depth feedback device is a clicking mechanism pre-installed in the Prestan Pro Series Manikins (please note: this does not include the Prestan Ultralite Series). This device may also be referred to as a "Clicker" due to the audible "clicking" sound it makes when the compressions reach a depth of 2″ (Adult).
-The compression rate feedback device is a LED light mechanism that signals through a series of lights indicating whether CPR chest compressions are being delivered at the appropriate rate. This device may also be referred to as a "monitor" or a "rate monitor".  The "Rate Monitor" comes in various sizes and quantities for your convenience.  It would be beneficial to note (again…) that not all Prestan Pro Series Manikins come with the rate monitor. However, it can easily be installed. 
For additional insight on choosing a Prestan Pro Series Manikin with Monitor, check out a previous blog I wrote on the  Prestan Products naming algorithm.
What does it do and where is it at?
The "clicker" is located in the chest plate area under the manikin's skin. You and your students will hear a "clicking" noise every time the compression reaches the proper depth recommend by the AHA. The clicker mechanism comes in the Prestan Professional Series Adult, Child, and Infant manikins.
The "monitor" is located in the upper left-hand shoulder of the Prestan Professional Adult and Child manikin and in the diaper area of the Infant manikin. Prior to your class, I recommend you review the lighting system to ensure proper training.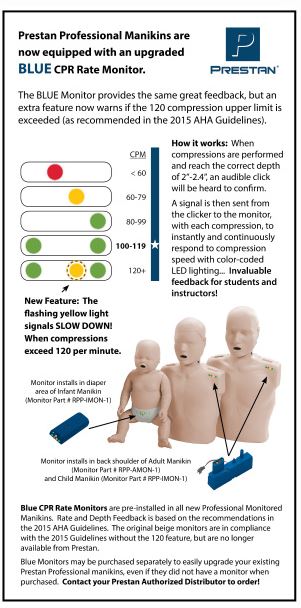 Red Light = Less than 60 compressions per minute
Yellow Light = 60-80 compressions per minute
Green Light = 80-99 compressions per minute
2 Green Lights = Recommended 100 compressions per minute 
2 Green Lights plus Yellow Flashing Light = The 120 compressions per minute
Where can I get it?
MCR Medical carries an array of Prestan CPR Manikins and our staff would be more than happy to answer any of your questions or concerns regarding this new policy. We are able to take orders over the phone or you can visit our website at www.MCRmedical.com
Not the right time to upgrade?
If you find that purchasing the Prestan Pro Series Manikins with Monitor does not fit into your budget, don't worry! You can easily purchase these without monitors now and install them yourself later. 
I would like to reiterate that we have been discussing the Prestan Profesional Series and not the Prestan Ultralite Series. Unfortunately, at this time the Ultralite Series does not come with a CPR Feedback device and can not be upgraded. 
If you choose to install the monitors yourself down the road, I highly recommend checking back with us in November for our Annual Black Friday Blow Out. All Prestan Products are 20% off and we have an assortment of other CPR and First Aid training products marked down. 
I've attached a YouTube video. You will see just how easy it is to install the compression rate monitor yourself. Remember that you can always call our office if you have questions. If you find yourself using a search engine looking for  "CPR manikins with lights" or "CPR manikins with feedback"  and  you're not sure if they will be complaint give us a call. We sometimes talk to ourselves but it's much more fun to talk to other people.