QuikClot puts lifesaving first aid in your pocket
Emergencies happen when you least expect them. MCR Medical offers great portable first aid products! With QuikClot first aid to go in your first aid kit, you're always ready. Stop bleeding fast and save a life with QuikClot first aid to go easy use gauze.
Why QuikClot?
QuikClot is easy to use and easy to carry. This critical first aid product: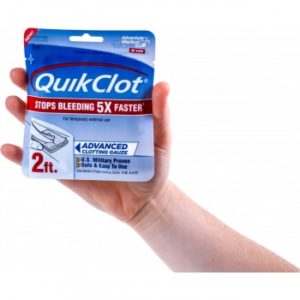 Controls Bleeding Fast:
QuikClot hemostatic gauze acts on contact to stop bleeding five times faster. Infused with kaolin, a mineral that speeds up your body's natural clotting, QuikClot is your first choice to quickly stop bleeding and render first aid. 
Trusted By Professionals: 
QuikClot's hemostatic agent has years of proven combat effectiveness and is recommended by Tactical Combat Casualty Care (TCCC) guidelines for use by all US military branches. 
Safe and Effective:
Kaolin is an inert, non-allergenic mineral. QuikClot first aid contains no botanicals and no human or animal proteins. Use QuikClot gauze with confidence to stop bleeding fast! 
Continue reading QuikClot First Aid To Go – easy use gauze stops bleeding fast