Brutal winter storms have recently caused record-breaking freezing temperatures and inclement weather across the United States. Now is an important time to stock up on emergency blankets and hand warmers for yourself, your loved ones, and even those less fortunate in your community. With bitter temperatures expected to continue for millions of people, MCR Medical is here to help customers fight the winter cold with quality products, friendly customer service, and fast shipping.
Emergency Blankets: Small package, big results!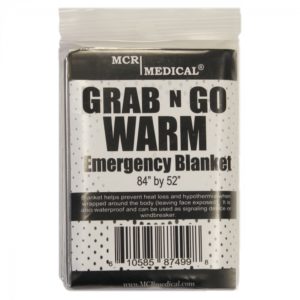 Emergency blankets are an indispensable tool for first responders and disaster agencies. Our Grab N Go WARM Silver Emergency Blankets are small enough to fit in your pocket but open up to a generous 52″ by 84″. Often used for emergency first aid and wilderness survival, these little wonders have plenty of other uses and are perfect to keep in the car, for 72 hour and first aid kits! 

The metalized plastic sheet, which can help prevent or treat hypothermia, acts as a windbreaker and can be an emergency waterproof wrap. The shiny material is easy to see from a distance, making your blanket an emergency signaling device. In addition, because they reflect up to 90% of radiated body heat, they also have lots of non-emergency uses as well. Use Grab N Go WARM Silver Emergency Blankets to stay warm after a marathon, track meets, soccer game, or other sports activity. Find XL Emergency Blankets here.
Hand Warmers: Ready in a shake!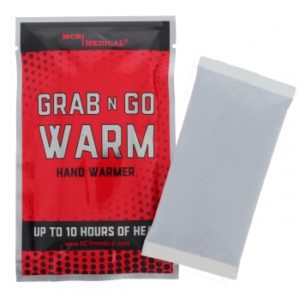 Grab N Go WARM Hand Warmers have oodles of uses and are a winter preparedness essential. Sports fans, hikers, hunters, musicians, and more can all use a disposable hand warmer to keep winter's chill at bay.
Fitting easily into a pocket, purse, glove or lunch box, each hand warmer is individually packaged and ready for immediate use. Just tear open the packet, shake the warmer, and in less than 10 minutes, you'll feel the difference! Keep a few in your car for emergencies. Stash them in the garage or garden for outdoor projects. Take to the sports field for kids' fall or early spring sporting events… the possibilities are endless. 
Be prepared to fight the cold
Because Emergency Blankets and Hand Warmers have so many uses, many customers choose to bundle them together. You'll have just what you need to stave off the chill! And they're affordable enough to get some for your family and friends, too! 
Don't forget your local homeless shelters and those for whom the cold isn't a minor inconvenience! Our blankets and hand warmers are priced right to share with those who need it most this season.
Shipping is always fast and free with MCR Medical. Contact us today to see how we can help you fight extreme winter weather.
Read more about it:
Grab N Go Hand Warmers "Shake Up" the Industry!