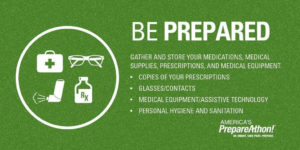 There is no better time than NOW to prepare for an emergency. We have found a wonderful resource from the Department of Homeland Security. called Ready. Their website ready.gov is part of a National public service campaign designed to educate and empower the American people to prepare for, respond to and mitigate emergencies, including natural and man-made disasters.
Ready and its Spanish language version Listo ask individuals to do four key things: (1) stay informed about the different types of emergencies that could occur and their appropriate responses (2) make a family emergency plan and (3)  build an emergency supply kit, and (4) get involved in your community by taking action to prepare for emergencies.
We can help ensure your emergency kit is stocked with the items suggested by Ready.Gov.  Most items are inexpensive and easy to find, and any one of them could save your life. 
Headed to the store? Download a printable version to take with you. Once you take a look at the basic items, consider what unique needs your family might have, such as supplies for pets, or seniors.
After an emergency, you may need to survive on your own for several days. Being prepared means having your own food, water and other supplies to last for at least 72 hours. A disaster supplies kit is a collection of basic items your household may need in the event of an emergency. 
Here at MCR Medical we offer various items to keep you prepared. Our first aid kits, emergency blankets and sleeping bags are just a few emergency supplies we carry. We recently added our Grab-N-Go Warm hand warmers to our product line. With our infamous Fast-N-Free shipping we can help you prepare without breaking the bank. 
Below you can check out the various places you should keep a kit.
Emergency Kit Storage Locations
Since you do not know where you will be when an emergency occurs, prepare supplies for home, work and vehicles.
Home: Keep this kit in a designated place and have it ready in case you have to leave your home quickly. Make sure all family members know where the kit is kept.

Work: Be prepared to shelter at work for at least 24 hours. Your work kit should include food, water and other necessities like medicines, as well as comfortable walking shoes, stored in a "grab and go" case.

Vehicle: In case you are stranded, keep a kit of emergency supplies in your car. *In 2016 we made vehicle emergency kits as gifts to our MCR Medical friends and family. These were a huge hit and most are still in our cars today. 
With winter hitting us hard and fast in Central Ohio, I wanted to share a video from Ready: When The Sky Turns Gray – Animated Video – YouTube
Be safe out there and please visit our website MCRMedical.com for more information on our products. You can also email us at sales@mcrmedical.com or call 614-782-2100.