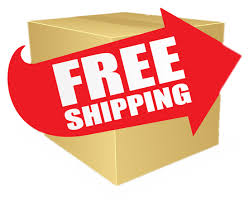 How many of us have filled up an online shopping cart only to start the checkout process and second guess the purchase because of shipping costs? Several friends and coworkers have confessed to doing this exact thing. Whether the shipping cost is outrageous or even if its minimal, it makes you stop and think "do I really need to buy this today?" We want to give you a reason to buy what you want when you want it and we've decided that free shipping is the answer!
According to research, free shipping is the most effective promotion any online business can offer. We have taken it a step further by offering free no hurry shipping everyday on every order. A few other online retailers such as Nordstrom and Zappos offer free shipping on all orders every time and customers overwhelmingly LOVE it.  Because we are 100% customer service focused, how could we not do the same?
So, free no hurry shipping at MCR Medical is for YOU, our customers, for helping us become the success that we are today. You are the reason why we all do what we do! So enjoy and please let us know if there is anything else we can ever do to help your experience be exceptional.