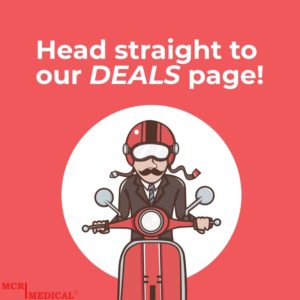 It's time for us to make room for new products here at MCR Medical. Soooo… we have decided to offer a great deal on our Grab-N-Go Warm Hand Warmers. Right now all hand warmers are 50% off. Yes that's right, half off!  Use promo code STOCKUP at checkout. What a perfect time to stock up for cold weather. The hand warmers don't expire until 10/2020 so you could purchase enough for the next 2 winters! For all the details on this popular item check out our blog post titled : Grab-N-Go Warm Hand Warmers 'Shake Up' the Industry!
With the support of all of our great customers we are bursting at the seams in our warehouse. This means we need to move out some products to add more  great items such as our Grab-N-Go Dry Emergency Rain Ponchos, Prestan Manikins and more!
The 'more' means sensational new products like our manikin vests. These vests are custom fitted for Prestan adult manikins but can be used for other brands as well. Our Mani-Vest is truly an original design that will  have your CPR training looking polished and professional. With a dynamic red color and easy zipper these will certainly be something all instructors will want. 
If you haven't visited our 'Deals' page, this is a great time check it out. Right now we have great sales on another MCR Medical original product, the CarryAll Wheeled CPR Manikin Bag. You also will find items like pocket resuscitator masks and CPR training valves. And of course the incredible deal on our Grab-N-Go Warm Hand Warmers.