QuikClot puts lifesaving first aid in your pocket
Emergencies happen when you least expect them. MCR Medical offers great portable first aid products! With QuikClot first aid to go in your first aid kit, you're always ready. Stop bleeding fast and save a life with QuikClot first aid to go easy use gauze.
Why QuikClot?
QuikClot is easy to use and easy to carry. This critical first aid product: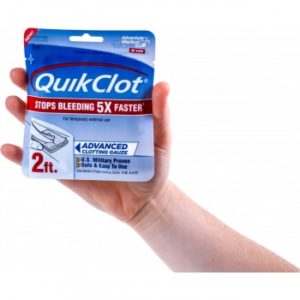 Controls Bleeding Fast:
QuikClot hemostatic gauze acts on contact to stop bleeding five times faster. Infused with kaolin, a mineral that speeds up your body's natural clotting, QuikClot is your first choice to quickly stop bleeding and render first aid. 
Trusted By Professionals: 
QuikClot's hemostatic agent has years of proven combat effectiveness and is recommended by Tactical Combat Casualty Care (TCCC) guidelines for use by all US military branches. 
Safe and Effective:
Kaolin is an inert, non-allergenic mineral. QuikClot first aid contains no botanicals and no human or animal proteins. Use QuikClot gauze with confidence to stop bleeding fast!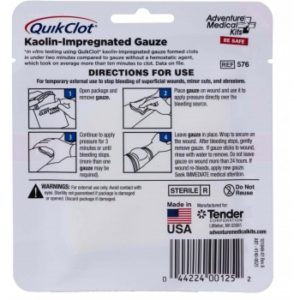 Easy to Use:
QuikClot gauze easily conforms to wounds. Just position the gauze over the source of the bleeding and apply pressure.
Portable and Convenient!
With this lightweight, compact dressing, you're ready for anything. Fits in your trauma kit, range bag, emergency medical kit, glove box, or purse!
Buy it alone or bundled
Choose QuikClot individual packets, or get the Trauma Pak bundle with the essential supplies to control bleeding until medical professionals arrive. In addition to QuikClot, this Trauma Pak includes:
Zeolite Sponge to stop bleeding fast: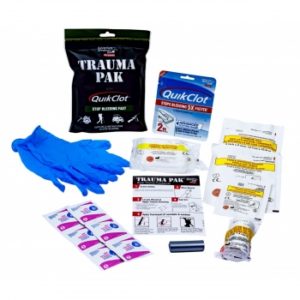 Zeolite works on contact to speed up your body's natural clotting and stop bleeding 3x faster. 
Critical Trauma Instructions:
One page guide highlights life-saving trauma care instructions, including how to apply a tourniquet, stabilize fractures, manage gunshot wounds and treat sucking chest wounds. 
Essential Equipment for immediate response:
The Trauma Pak contains a trauma pad, triangular bandage, sterile gauze, gloves, and other key supplies in one handy resealable waterproof bag. 
Small But Mighty:
The QuikClot Trauma Pak weighs just 4.4 oz. and fits in a BDU pocket, your backpack, range bag, glove box, or purse. 
Be prepared! Get your QuikClot products today!
Accidents happen when you least expect them. Be prepared with QuikClot products from MCR Medical. Our friendly sales team at sales@Mcrmedical.com is ready to help you or visit our website for more info. Don't forget, every purchase comes with fast and free shipping! Get ready for whatever may happen today!