Is it cold in here, or is it just me? 
Dropping temperatures caught you by surprise? No worries! MCR Medical has you covered for winter fun with our private label Grab N Go hand warmers, silver emergency blankets, and emergency sleeping bags, in stock now!
Warm hands, warm hearts!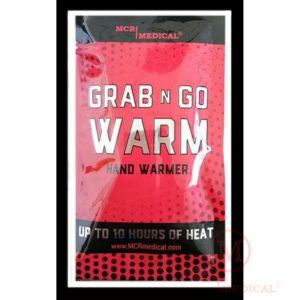 These Grab N Go WARM Hand Warmers are amazing! They're small enough to keep in your purse, glove box, first aid kit, or even your jacket pocket. Just open the packet*, give it a shake and hold it in your hand. Feel the warmth! Air activated, with a 3-year shelf life. Great for outdoor sporting events, holiday parades, waiting for the school bus, musicians and hunters. MCR Medical has the lowest prices around, making them affordable enough to share. They make a great donation to churches, homeless shelters or schools, too. Get a few! Grab yours here. 
Continue reading Hand Warmers, Blankets and Sleeping Bags are Here!