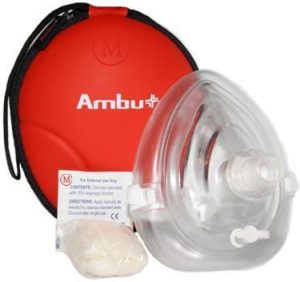 Product review for the Ambu RM-3034
What is our RM-3034?
I'm so happy you asked…. The RM-3034 is a CPR Rescue Pocket Mask we sell here at MCR Medical. The Ambu Res-Cue Mask is designed to provide protected rescue breathing for any patient and may also be used with a bag valve mask if you detach the valve.
What comes with it?
The Mask:
Ambu's latex-free ResCue mask (which can be used for both adults and children) comes equipped with oxygen inlet, elastic head strap and one-way valve. The mask has a transparent dome to allow visual check of patient's condition.
Accessories:
A detailed instruction booklet, a pair of large latex-free gloves and two alcohol prep pads complete the kit.
The Case:
The case is what sets this mask apart from the competition. The Ambu zipper foam case opens easily and can be stored practically anywhere. Ambu's state of the art foam-like material makes this case nearly impossible to rupture or destroy.
The case is very sleek and lightweight while maintaining its safety red color making it very easy to find in case of an emergency.
What do I think?
This is by far my favorite rescue mask. I love the look of it and more importantly the ease of use.
I keep mine in the glove box of my car while customers and co-workers keep them in their purse or backpacks. We have yet to hear of any damaged cases even in rough settings.