Hands-Only CPR — Anyone can do it. Everyone should!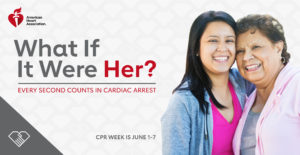 Each year, more than 350,000 EMS-assessed out-of-hospital cardiac arrests occur in the U.S. When a person has a cardiac arrest, survival depends on immediately receiving CPR from someone nearby.
We're pleased to support the American Heart Association's efforts to observe this important week, which spotlights how lives can be saved if more Americans know CPR and how to use an AED.
About 70 percent of out-of-hospital cardiac arrests happen in homes. If a cardiac arrest occurs at home, then a household member is likely to be the rescuer. Cardiac arrest occurs when the heart malfunctions and stops beating unexpectedly. Within seconds a person becomes unresponsive, is not breathing or is only gasping. According to the AHA, about 90 percent of people who suffer out-of-hospital cardiac arrests die. CPR, especially if performed immediately, can double or triple a cardiac arrest victim's chance of survival.
Hands-Only CPR has just two easy steps, performed in this order below.
Step 1: Call 911 if you see a teen or adult suddenly collapse
Step 2: Push hard and fast in the center of the chest to the beat of a familiar song that has 100 to 120 beats per minute
This 90 second video demonstrates the basics of Hands-Only CPR. Click here to watch the video any day this week, and then make sure to share the link with friends and family. 
Discounts, Discounts, Discounts!
Additionally, we will be having a sale ALL WEEK on our website for CPR Awareness Week for 10% off your entire order using the discount code CPRWEEK. We also have a sale going on today for 15% off a CPR Manikin Training Kit using the discount code CPRWED. We will have another special sale on Friday, June 5th. 
Check out our Facebook for other fun contests and giveaways! If you follow at least one of our social media accounts (Facebook, Instagram, or Twitter) you will be entered into a raffle to win some fun CPR novelty items. Just message us on one of our platforms to let us know you followed us. Keep in mind, each page followed will count as another entry into the raffle!!! 
As always, if you have any questions or need additonal information, please feel free to call or email us and we would love to assist you. Have a wonder Wednesday, and thank you for learning how to save a life!