Hands-Only CPR — Anyone can do it. Everyone should!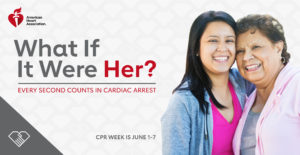 Each year, more than 350,000 EMS-assessed out-of-hospital cardiac arrests occur in the U.S. When a person has a cardiac arrest, survival depends on immediately receiving CPR from someone nearby.
We're pleased to support the American Heart Association's efforts to observe this important week, which spotlights how lives can be saved if more Americans know CPR and how to use an AED. Continue reading CPR Awareness Week is Here!