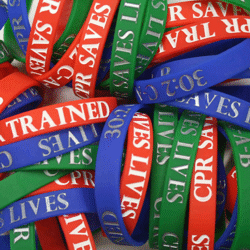 We are always seeing silicone wristbands. It may be cancer awareness or local high schools selling them as fundraisers and people love them. Hence here at MCR Medical we have decided to offer our customers a few novelty items that are inexpensive, fun and as bring awareness to CPR training and certification.
We are happy to announce that our silicone bands are now available at MCR Medical. We offer them in red, blue or green with 2 different messages. You can choose from either CPR TRAINED/C-A-B 30:2 or CPR TRAINED. Our bands are sold in packs of 10, 50 and 200 and combo packs of 60 or 30. We hope instructors will use these as an inexpensive giveaway for each and every student. Everyone, please take a moment to check out these cool wristbands on our website at https://www.mcrmedical.com/category/Silicone-Wristbands.html.
Most of all we are hoping to expand CPR awareness. Since we have a spirit of giving we are offering FREE wristbands each month to individuals that are touched by CPR. So if you know of someone who has been touched by CPR please email their information to sales@mcrmedical.com and we will be sure to get one to them.
We are very excited about these novelty items but most of all we hope you enjoy them as well. Please call us or email us at sales@mcrmedical.com for more information.