This exclusive Prestan "TAKE2" pack, available only through MCR Medical, provides all of the essentials to begin a CPR training career in one affordable collection featuring: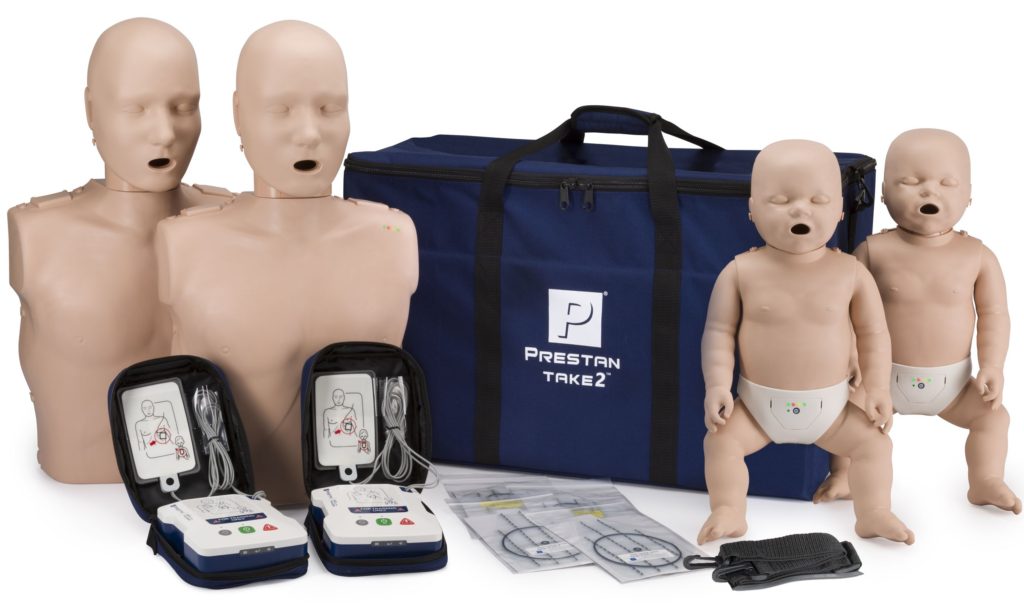 Two adult Prestan Professional Series manikins with AHA guidelines compliant compression and rate feedback devices (medium skin tone only)
Two infant Prestan Professional Series manikins with AHA guidelines compliant compression and rate feedback devices (medium skin tone only)
Two Prestan UltraTrainer AED training devices – pre-programmed with 5 training scenarios in English and Spanish, with accessories(see below for full details)
Eight AA batteries (two per manikin)
Starter 20-pack adult sized lung bags
Starter 20-pack infant sized lung bags
Specially designed carry case with foam inserts and repacking instruction sheet (26.5" x 15/5" x 17")
Three-year manufacturer's warranty against defects in workmanship or materials, fulfilled directly by MCR Medical
AHA Standards Compliant CPR Feedback
The Prestan TAKE2 includes two medium skin tone Prestan Professional Series Adult size and two PPS Infant size manikins with both compression and depth rate feedback monitors preinstalled. These manikins meet both AHA and ARC standards for compression depth and compression rate feedback. The manikins provide feedback in two ways:
Compression depth feedback. This device, located in the back of the manikins, monitors the depth of student compressions and provides an audible "click" when the correct 2-2.4" depth is reached.
Compression rate feedback. This device responds to compressions with color coded LED lights (visible beneath the skin of the left shoulder of the adult manikin and in the diaper of the infant manikin) and guides students to reach and maintain the proper compressions per minute (CPM) with visual feedback. Red = 60CPM, yellow = 60-79 CPM, 1 green = 80-99 CPM and 2 greens= maintaining  optimum 100-119 (CPM). Flashing yellow light = 120+ CPM.
Not only do these feedback devices meet the AHA and ARC guidelines, but they'll help you to effectively conduct and monitor larger classes by providing individual feedback to students while practicing compressions. The LED rate lights are easily visible and help instructors monitor student progress from a distance to focus help to students needing more hands-on assistance in proper technique. The built-in feedback devices are convenient and eliminate the need for wires, cords or external parts to get in the way or be lost or damaged during use or storage.
Realistic Manikins that are Durable and Easy to Use
These manikins are easy to set up, take down and store, but are durable and heavy-duty enough to last through years of classes. The realistic look and feel will enhance students' training experience and performance, and the easy-care surface and set up design is time-saving for you!
The Adult Manikins weigh just over 8 pounds and feature a pinchable nose and fully formed neck to practice carotid artery check. The tilting head teaches students how to open the airway and observe a true chest-rise when using proper head-tilt/ chin-lift technique. Visual anatomy landmarks (such as navel and ribcage) reinforce proper hand placement for quality CPR compressions and can be used to practice the Heimlich maneuver. And the upper chest is large enough for AED training.
The Infant Manikins are revolutionary full body models with fully formed legs and feet. "Flick their feet" reminds students to check for level of consciousness. Movable arms allow for brachial pulse check, and the padded upper back portion allows students to practice conscious choking blows.
Just like the adult versions, the infant manikins feature a pinchable nose and fully formed neck to practice carotid artery check. The tilting head teaches students how to open the airway and observe a true chest-rise when using proper head-tilt/ chin-lift technique, and the head structure can accommodate demonstrating the jaw-thrust maneuver. Visual anatomy landmarks (such as clavicle, accurate nipple line, sternum, and xyphoid process) reinforce proper hand placement for quality CPR compressions and can be used to practice choking skills. The upper chest accommodates AED training.
The realistic look and feel of these manikins will enhance your students' learning and practice, making class demonstrations easier and solidifying the techniques learned for real-life emergencies.
Care and set up are easy! The clamshell chest design easily folds open to install the lung bag, which inserts through the mouth with no special tools required.
The realistic "skin" resists dirt, grime and grease for easy clean up. When necessary, just use soap and water. If a manikin gets very dirty, common household cleaners can be used to gently clean. Using disinfecting wipes and/or alcohol pads will also effectively kill germs and keep your manikin clean. For more details, refer to the cleaning instructions and recommendations included in the Instruction Sheet.
Manikin Accessories
Lung Bags: A 20-pack of adult size lung bags and 20-pack of infant size lung bags are included to get you started right out of the box.  These lung bags are specially designed to cover the manikins' faces with no adhesives, keeping them sanitary and making cleanup fast and easy between classes.
Batteries: Eight AA batteries for the rate feedback devices are included (two per manikin).
Prestan UltraTrainer AED trainers
The Prestan TAKE2 pack includes two Prestan UltraTrainer units. These UltraTrainers are the most realistic compact AED trainers in today's market. They provide all the features you would expect in a full-size trainer at a very affordable price point. Lightweight and compact, they feature:
Five pre-programmed training functions and scenarios in both English and Spanish
High performance components
Easy to use pre-set up accessories
Durablility and affordability
On/Off Metronome feature
Three-year manufacturer's warranty*
Compliance with American Heart Association (AHA) 2015 guidelines for AED training AND are compatible for future firmware updates when and if the training guidelines change (purchased separately).
Each unit comes with one set of easy to connect Adult/Child size training pads with anatomical graphics clearly marked and pre-installed cords (two sets total), three "C" batteries pre-installed (six total), one set of extra connector pins (two total) and a handy nylon and fabric zippered carry case to house and protect the unit and accessories.
Functions and Programming
These AED trainers come pre-loaded with five different training scenarios in two languages (English and Spanish). The On/Off button with lighted indicator is clearly visible and offers a Program Pause option to stop and start class practice if needed for extra help. Clear and calm voice prompts guide students through the proper procedures. The metronome feature operates independently of voice commands, providing beats so the students can match pace, or can be turned off to avoid confusion or undue noise in large class settings. Switch between Adult and Child practice with the click of a button. The attached training pads provide anatomical graphics for both.
These trainers can be set for automatic OR semi-automatic shock delivery. In automatic setting, the trainer will self-administer a 'shock' when pads are placed. In semi-automatic mode, a clear voice prompt will encourage students to press the brightly illuminated Shock button and begin compressions. Programming options allow you to include or exclude time for breaths after the compression cycle.  The combination of scenarios and settings provide a wide range of options for real-life practice scenarios, better preparing your students for actual CPR and AED situations they may encounter.
The main unit is water and splash resistant and features long battery life, with a low battery voice prompt warning and automatic shut off to extend the battery life during regular use, making it easy to maintain and saving you time and money.
Accessories
Each UltraTrainer unit includes one set of pre-installed Adult/Child size training pads (two sets total). These high-performance pads feature a unique pad connector with locking connector pin for convenience and easy set up, and are clearly marked for anatomical placement of both adult and child. The long-life adhesive attaches well to any manikin with no messy residue left behind. An extra set of connector pins (two sets total) is included with each unit. Pad cords never need to be disconnected from the main unit, and the pads can be stored in the reusable, protective pad tray when traveling or not in use.
Furthermore, the UltraTrainer features smart "pad-sensing" technology to alert the unit when pads are attached to the manikin, streamlining scenarios and replicating a more realistic scenario of AED use.
Your UltraTrainers arrive with the pads connected, batteries installed and the five scenarios pre-programmed for use. Everything fits into the sturdy nylon and fabric carry case for protection and organization. These small and lightweight units– just 1.2 pounds each – are easy to transport and store, and are less costly than larger training units (about 40% less), making providing each student with a trainer a more achievable option.
 Carry Case
This roomy TAKE2 carry case (26.5" x 15.5" x 17") keeps your manikins clean and ready for easy transport. Specially designed with foam inserts, your manikins, Ultra Trainers and accessories are snugly cradled for safety and support in transit and storage. A repacking schematic is included to help maximize your space.
Three-Year Manufacturer's Warranty
For your peace of mind, these training manikins and AED trainers include an industry leading three-year manufacturer's warranty against defects in workmanship or materials. CPRmanikins believes in our products and stands behind them 100%. While we don't anticipate any issues with your purchase, in the unlikely event that you need help we will fulfill any replacements or repairs under the manufacturer's warranty in-house at no cost to you, including shipping to and from our office.
Affordable Quality
These CPR manikins offer the high-end features that you need, at a price you'll appreciate. We guarantee these manikins will meet AHA and ARC standards for CPR feedback, while providing dependable and realistic training scenarios to your students. With the included starter accessories, the manikins and Ultra Trainers arrive ready to set up and use – right out of the box. We're CPR trainers ourselves, so at CPRmanikins.com we promise you'll find the best quality training products at the lowest prices, guaranteed!  As an added bonus, all purchases qualify for fast, free shipping. Order your Prestan TAKE2 pack with confidence today!