Is it cold in here, or is it just me? 
Dropping temperatures caught you by surprise? No worries! MCR Medical has you covered for winter fun with our private label Grab N Go hand warmers, silver emergency blankets, and emergency sleeping bags, in stock now!
Warm hands, warm hearts!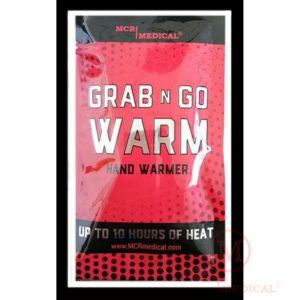 These Grab N Go WARM Hand Warmers are amazing! They're small enough to keep in your purse, glove box, first aid kit, or even your jacket pocket. Just open the packet*, give it a shake and hold it in your hand. Feel the warmth! Air activated, with a 3-year shelf life. Great for outdoor sporting events, holiday parades, waiting for the school bus, musicians and hunters. MCR Medical has the lowest prices around, making them affordable enough to share. They make a great donation to churches, homeless shelters or schools, too. Get a few! Grab yours here. 
*1 packet = 1 hand warmer. 
Silver Emergency Blankets Keep You Toasty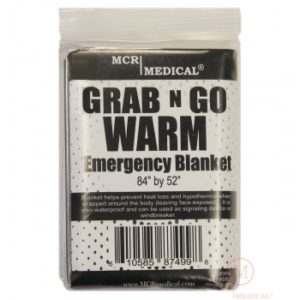 Silver emergency blankets are in stock! Made  from insulating Mylar material, our blankets are a generous 84″x52." Wrap yourself up for outdoor activities, during power outages, in the car, wherever you need to keep the wind off and the warm in. They work great to retain body heat, fend off hypothermia, are waterproof and act as a windbreak. Good for runners and athletes after outdoor exercise in the cold, too! Get them here today.
Long Winter Naps
These emergency sleeping bags are so versatile! The full
body size helps maintain maximum heat in cold situations. Or fold the material and use in boots, bookbags, sleeping bags,  anywhere you need to waterproof or retain heat. The shiny silver can redirect heat from a campfire, or be used as an emergency signal. You can even use it to melt snow for potable water – just cover the bag with snow and leave in the sun! Folds up for easy storage in cars, backpacks, first aid kids, etc. Sold in single or multi-packs here.
More In Our Store
Don't forget to check out our other high-quality first aid/ emergency supplies as well as our CPR training manikins and accessories. Visit our online store at mcrmedical.com, or call today to speak with our friendly, knowledgeable sales team about how we can help you be prepared for whatever winter throws at you.
Check out these previous blogs about our Hand Warmers and for more info on being prepared:
Grab-N-Go WARM Hand Warmers "Shake Up" the Industry!