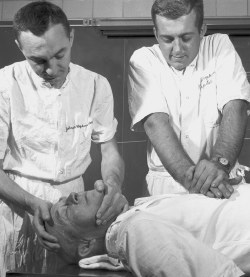 In 1960 when cardiopulmonary resuscitation was first developed, the American Heart Association started a program to acquaint physicians with close-chest cardiac resuscitation and became the forerunner of CPR training for the general public.
Today there are thousands of CPR instructors across the United States and each year more and more people are being trained as instructors.
Each week we field calls from people who are new CPR instructors or want to become one.With our customer needs in mind we have created a  New Instructor Checklist (included in this blog post) to help alleviate some of the work of going into business for yourself. MCR Medical has created CPR Training kits that include manikins, AED trainers and other items for new instructors. 
If you are new instructor or interested in becoming one, we can help. Not only do we have quality CPR, AED and First Aid training equipment at low prices, our owners are seasoned CPR, First Aid and CERT instructors / instructor trainers with decades of first aid and practical field experience as well. 
For more information on our CPR Training Kits and any of our other products, pleas email us at sales@mcrmedical.com or call us at 614-782-2100. Our seasoned customer service reps are always ready to help.
                                            New CPR Instructor Training Supply Checklist
1.    CPR manikins– Ultralite or Prestan Professional. With monitors or without. Light, medium or dark skin tones.
2.    CPR training masks, valves, shields and/or bag valve masks.
4.    Extra lung bags.
5.    Exam gloves.
6.    Student training kits for first aid.
7.    CPR training mats.
8.    Fun novelty items for students: our wristbands and Manikey key-chains make great freebies.