HOW DO I CLEAN MY MANIKIN TO BE UP TO STANDARDS WITH COVID-19?
Prestan Products always recommends cleaning your CPR manikins thoroughly after each class. Along with cleaning the outside torso and face, you want to make sure you are opening the manikin and wiping the chest foam and skin to sanitize the inside as well. You can use a mixture of soap and water to clean the manikin effectively. If the area is extremely dirty, you can also use common household cleaners such as Formula 409, Windex, or Vim. Clorox or Lysol wipes can also be gently applied to clean them if needed.  
CONTINUE WITH STEPS AS USUAL
If you have more than one student on a manikin at a time, it is recommended, as always, to supply them with a separate face shield. The face shield then can be placed over the attached lung bag/face shield, providing a personal barrier. 
After every class, you will still need to remove the used lung bag. You can then insert all a new lung bag before your next class. These are replaced after each class because moisture becomes trapped inside the manikin from supplying breaths. Replacement lung bags can be ordered through our website here. 
It's always important for CPR instructors to be sanitary and clean their manikins after every class. This is why Prestan Products is recommending that instructors proceed as normal, and take the steps they would normally take to sanitize their manikins.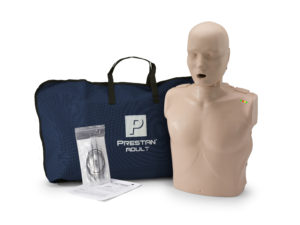 REACH OUT TO RESOURCES PROVIDED
If you have any questions or would like any additional information, please feel free to let us know. You can also follow this link to see Prestan's instructions on how to clean your manikins. 
LETS HAVE FUN
If anyone wants a fun song to sing while washing your hands, this excerpt from Smash Mouth's song "All Star" is a little over 20 seconds and we're loving singing it in our office:
Well, the years start coming and they don't stop coming
Fed to the rules and they hit the ground running
Didn't make sense not to live for fun
Your brain gets smart but your head gets dumb
So much to do, so much to see
So what's wrong with taking the back streets?
You'll never know if you don't go (go!)
You'll never shine if you don't glow