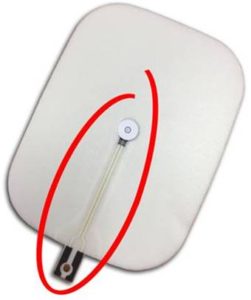 The state-of-the-art Prestan AED trainer pads will assure a true-to-life training experience.
If you are wanting the most realistic AED trainer then look no further than the Prestan AED trainer. What makes them the best?  The pad sensing system! It's that simple. 
The unique Pad Sensing System automatically detects when each pad is placed on the manikin. Programming runs through a sensor in the center of the pad's adhesive which most realistically simulates a live AED, allowing for a more realistic training experience. No remote control is necessary, although available for the Professional AED Trainer if desired.
The high-quality pads last for over 100 applications and the pad adhesive adheres and removes well to any manikin on the market without leaving messy residue. No more damaged pads or cleaning adhesive off your manikin. Pad replacement is affordable and easy, just replace the pad not the cord.

Other features include:
• Pads are pre-connected and ready to use, unlike other AED trainers
that use outdated plug-in technology
• One set of dual-graphics pads work for both adult and child training
• Pads have an embedded 'switch' which senses proper pad
attachment to the manikin (Pad Sensing System) (patent pending)
• The silicone base adhesive on the pads, coupled with the foam
structure, ensures easy application & removal
If you would like more information on the Prestan AED trainer or any of our up to date products please email us at sales@mcrmedical.com or call us at 614-782-2100.