Do you want to increase skill proficiency by having students practice with what they'll use in the field? With MCR Medical's Training BVMs, participants will leave class feeling confident using bag valve masks during patient resuscitation when you train with MCR Medical's training BVMs.
Rescue Proficiency
According to AHA, all BLS providers should be able to use a bag-mask device. Practice is key to master this rescue proficiency!
In a live rescue scenario, using a bag valve mask (or BVM, bag mask device) provides positive pressure ventilation to the victim. Sometimes, an oxygen source can be attached to provide 100% oxygenation during resuscitation. A two-person rescue team has also proven to be more effective for delivering BVM ventilations.
A study from Academic Emergency Medicine found BVM only ventilation significantly made a difference during out of hospital cardiac arrest. Compared to emergency advanced airway management patients, BVM only patients had a higher 72 hour survival, survival to discharge, and neurologically intact survival rates.
We know we must provide quality products to ensure each instructor has the tools they need to practice and train with BVMs to improve the skills of rescuers.
Training Equipment In Stock and Ready to Ship, Today!
Here at MCR Medical Supply, we offer adult/child and infant/neonate BVM sizes. Each BVM is individually packaged and comes with a detailed instruction booklet. Also included are adult/pediatric and infant/neonate rescue masks with re-inflatable bladders. Additionally, two removable oxygen reservoir bags and approximately 7' of oxygen tubing in each bag.
The textured surface of each bag ensures both a secure grip and that it can be firmly squeezed during extended skill sessions. The trainers even have a pressure limiting valve so instructors can teach students on their proper use or even how to identify and resolve a blocked airway situation during resuscitation.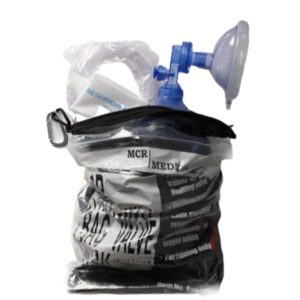 Each size of BVM comes packaged in a multipurpose black mesh bag. The mesh bag has a fully functioning, heavy duty zipper making it great for consistent use. It is made of thick and durable mesh netting that is difficult to tear and more reliable. This versatile mesh bag can also be refilled with other training supplies, keeping your supplies organized and you looking like a professional. It also includes a carabiner for your convenience for easier transportation. 
MCR Medical Supply's BVMs are capable of being cleaned and decontaminated per CDC guidelines and are latex-free.
5 Star Reviews
See what our customers have to say! Our BLS and CPR instructors love MCR Medical Supply's BVMs. Join others with the best quality of CPR supplies.
"These BVMs are great for training. The 2 mask sizes work wonderfully for most adult AND infant mannequins. This is nice because it saves you from having to haul 2 sets of BVMs around. Proper training to titrate the bag to the right chest rise is more important than getting 2 separate bags and informing students to use the entire BVM capacity regardless. Product feels durable and works great. The white box is an added benefit and allows for easier transportation and safekeeping. It says right on the BVM it is for training purposes only."        – Scott Redmond
Help your students train and reach the highest rescue proficiency in BLS to leave your class feeling confident. Our BVMs have a special promo price that will not last! Feel free to contact our helpful customer satisfaction advocates with any questions or concerns.
Lupton, J. R., Schmicker, R. H., Stephens, S., Carlson, J. N., Callaway, C., Herren, H., Idris, A. H., Sopko, G., Puyana, J., Daya, M. R., Wang, H., & Hansen, M. (2020). Outcomes With the Use of Bag-Valve-Mask Ventilation During Out-of-hospital Cardiac Arrest in the Pragmatic Airway Resuscitation Trial. Academic emergency medicine : official journal of the Society for Academic Emergency Medicine, 27(5), 366–374. https://doi.org/10.1111/acem.13927