Finally, with CarryAll Bags back in stock, transporting your CPR and First Aid training supplies professionally is a breeze!
Our customer favorite, CarryAll Bag with Wheels is officially back in stock! Specifically designed for MCR Medical, our durable, oversized Trolley Bag is manufactured with water resistant polyester fabric and includes two sewn-in support bases on the bottom and sides. The new design standing base has been reinforced for improved function and durability. The large interior storage compartment is easily accessed by the top zipper with an additional large side zippered pocket. This allows for storage of smaller sized items needed for class like pens, CPR novelty gifts or training valves.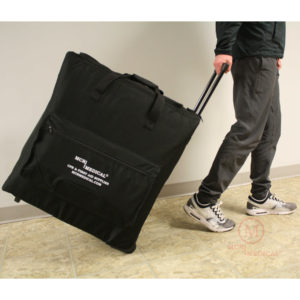 CarryAll Bag Features
Large Storage Compartments
Fully expanded, the Trolley Bag's dimensions are 25.5in x 13in x 27in. This can easily fit 4 PRESTAN Adults comfortably with their heads still attached. In addition, the large bag side pocket measures 20.25in x 11.5in which is perfect for storing smaller sized items! If compact storage is essential, the properly folded bag measures 29in x 15in x 6.5in, a fraction of its original size.
Telescope Handle
A secure pop-up telescoping handle, located on the side of the bag, can be used for easy pulling. One may also use it to latch or hang additional storage items from. When not in use, the telescope handle slides down easily into the main storage area.
Support Bag Straps
Need to pick up the CarryAll bag to load into your vehicle? This is easily accomplished utilizing the side straps that meet at the top of the bag and are held together by a Velcro support handle.
Double Rear Wheels
The large wheeled bag glides easily over concrete or similarly rough terrain on its two rear wheels. When not being used, the bag can be set in the upright position which prevents it from rolling away.
CarryAll Bag 5 Star Reviews
The following reviews are real Amazon Customers that were satisfied with their CarryAll Bag purchase:
"I purchased PRESTAN manikins for my CPR classes since they are the most cost-effective manikins for the new guidelines. However, to put them back into the case for transport, you have to take their heads off. This adds wear and tear not to mention the extra time needed to set up and break down after class. I can easily fit 4 adult manikins into this case with their heads on. Now instead of carrying it, I wheel it into class. I liked it so much, I purchased another one for other equipment." – Cookie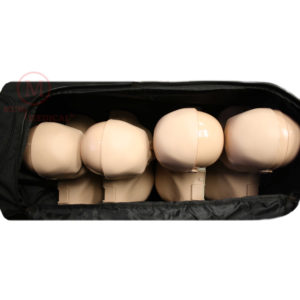 "I bought 4 of these bags. Bags are very well built, inside is padded. Bag has an interior board that you fold down to make it a hard bottom. I fit 4 Adult PRESTAN Manikins, 8 thin knee pads & 4 Baby manikins in the same bag. Has plenty of room. Highly recommended." – Michael
"Very nice manikin bag. Arrived on schedule as stated. It fits 4 adult/child manikins comfortably. Priced well given the quality of the bag. The wheels make it easy to transport in and out of buildings vs the lone shoulder strap. I LOVE the separate zip pocket in the front. It fits my AED machine trainer, DVD, lungs, and face shield perfectly. All in all, two 👍 👍. Very pleased. I will buy from this company again." – Anna
Our Commitment
A complete focus on superior customer service drives everything we do. Our accreditation and spotless record with the Better Business Bureau highlights this commitment. Above all, we promise to provide great products that work well along with knowledgeable staff utilizing excellent customer service skills to assist clients respectfully and confidently.
Lastly, we greatly appreciate our loyal customers that have been waiting patiently for our shipment of updated bags! We have plenty in stock, ready to ship! If you have any questions, please contact our supportive customer satisfaction advocates.
Order your new and improved CarryAll Large Wheeled bag today with our fast and free shipping!