What is a Diversity Kit?
The PRESTAN Professional Series Diversity Kits contain the same Professional Series manikins you have all come to know and love. This kit offers students an enhanced training experience with Medium Tone and Dark Tone PRESTAN Professional Series manikins.
What is a Professional Series Manikin?
These manikins are super easy to set up, take down, and store. Additionally, they are durable and heavy-duty enough to last. The Professional Series Manikins are available with or without feedback, which means they can be AHA and ARC compliant. It's important to note, with feedback, you can effectively conduct and monitor larger classes because of the built-in feedback.
All PRESTAN manikins, adult and infant, feature tilting heads and pinchable noses. Along with that, their fully formed necks, with appropriate visual anatomy landmarks, reinforce proper hand placement for quality CPR compressions and AED training. Also, on the adult manikins, the clamshell chest design easily folds open to install the lung bags. Finally, the realistic "skin" resists dirt, grime, and grease for easy cleanup.
What are the Different Diversity Kits Offered?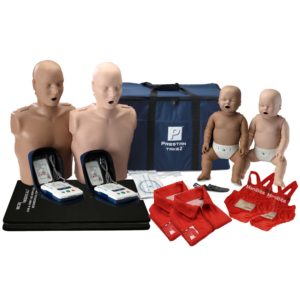 There are a few different versions of the diversity kits. The first option is the Take2 Diversity Kit. This kit includes 2 Adult Manikins (1 Medium Tone, 1 Dark Tone), 2 Infant Manikins (1 Medium Tone, 1 Dark Tone), 2 Ultratrainer AED's, ManiVests, ManiBibs, and MCR Kneeling Mats. We also offer an Adult 4-Pack, Child 4-Pack, and Infant 4-Pack that contain 2 Medium Tone and 2 Dark Tone manikins.
We previously offered only Dark Tone options in our Professional Series, but PRESTAN Products also released brand new Dark Tone Ultralite Manikins available on our website. These manikins are a light-weight option compared to the Professional Series Manikins and come with or without feedback. The portable, durable manikins provide an inexpensive CPR training tool with all the quality and realism you expect from PRESTAN.
For more information, visit our website or contact us directly. We would love to answer your questions!