MCR Medical and PRESTAN Products have been providing high quality affordable CPR training supplies for over a decade. And that is why it is our pleasure to introduce the newest manikin to our collection – PRESTAN Infant Ultralite Manikin.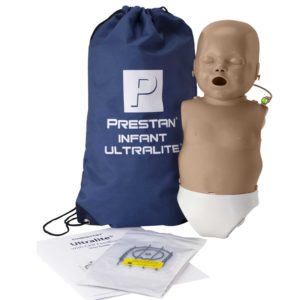 Quick Facts
We know our customers thoroughly enjoy the Ultralite adult manikins. And we have no doubt you are going to feel the same way about the infant. While developing the Ultralite Infant, PRESTAN was able to create an "all-in-one" training tool including easy set up and no storage disassembling.
PRESTAN Infant Ultralite Manikins are:
Uniquely fast and easy to set-up.
Compact, portable, and lightweight to carry. (1 single Infant Ultralite Manikin weighs 1.6lbs!)
Made of durable, latex free vinyl for realism and easy care.
Soft torso layer provides quick access for easy-to-insert lung bags.
Chest and back are large enough for AED pad placement and training.
Realistic skin resists dirt, grim and grease.
Visual anatomy landmarks reinforce proper hand placement for compressions.
Each manikin comes with guidelines compliant compression rate and depth feedback piston pre-installed.
Head-tilt feature shows students how to open the airway and models a true chest rise when proper head-tilt/chin-lift technique is used.
Durable construction is life tested to a half-million compressions.
Easy to clean and can be decontaminated per CDC guidelines.
Covered by a three-year factory warranty against defects in workmanship, directly fulfilled in our warehouse by MCR Medical.
The Infant Ultralite Manikin comes in both medium and dark skin tone with singles, 4-packs or 12-packs. Diversity kits are also available!
Watch the PRESTAN video introducing the Infant Ultralite Manikin
Easy Set Up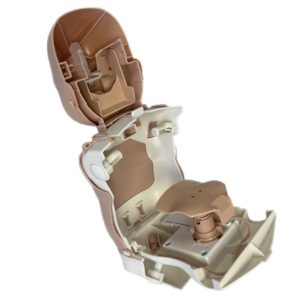 The Infant Ultralite is lightweight and amazingly fast to set up! First, simply unlatch the back panel and rotate it down. Here, you will be able to install 2 AAA batteries needed for feedback. Next, the LED light sensor can be routed outside of the manikin when closing the back panel.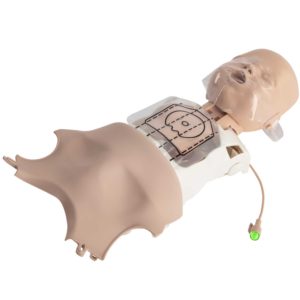 Then, the skin tabs are easy to unlatch on each shoulder to peel back the front torso layer in order to insert the lung bag. Once you secure the skin tabs back in place, the LED light sensor has a loop on the left shoulder to hook onto. Lastly, push out the head stabilizer, and you're ready to train!
Frequent Questions
What size batteries does this new manikin take?
            2 AAA batteries (not included)
What lung bags do I use?
            The same lung bags can be used with the PRESTAN Professional and Ultralite Infant Manikin.
Can I train students to give back blows and use an AED?
            Yes! There is plenty of area space on the back panel.
When can I get my Infant Ultralite?
            Preorder NOW to ship in September!
What if I have more questions?
            Contact our sales office! 614-782-2100  or sales@mcrmedical.com
Our Commitment
PRESTAN is committed to building confidence by expanding their most compact, lightweight product offering designed to meet instructor's needs in a full range of training environments including on-the-go & virtual training!
As PRESTAN's #1 distributor, MCR Medical strives for complete customer satisfaction. Remember, we're CPR professionals and trainers ourselves, so we're committed to providing the best industry products to our customers at the best prices. And we stand behind our products by fulfilling warranties directly from our warehouse.
For instructors that value lightweight, portable products with easy set up the Ultralite Series is the perfect solution. And now, you can add infants to your on-the-go training!
Preorder Today!
Don't wait, preorder your expansion! Come September, you'll be ready to rock and roll all over the map. To preorder, check our product listing, email our team at preorders@mcrmedical.com, or call our office at 614-782-2100.
Nevertheless, fast and free shipping is always included with every purchase!