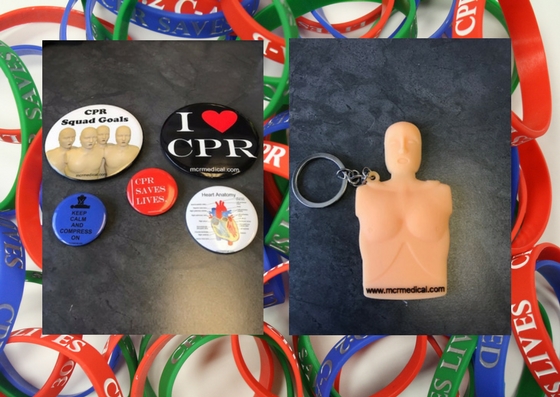 As described in Wikipedia, a novelty item is an object which is specifically designed to serve no practical purpose, and is sold for its uniqueness, humor, or simply as something new (hence "novelty", or newness). Items may have an advertising or promotional purpose. This description fairly describes our list of MCR Medical's fun novelties item.
We have a wonderful product development team who has been working hard to come up with some fun and unique items to not only bring awareness to CPR training but help you grow your business as well. Our team has created terrific items just for you including wrist bands, buttons and keychains.
First are our wristbands. They are offered in red, green or blue. You can also choose from 2 different sayings: "CPR SAVES LIVES" or "CPR TRAINED 30:2 C-A-B". Schools and instructors love purchasing these to give to their students once they've complete their training. They've also been used a prize during training for correct answers etc.
Next, we have our buttons. In the above picture, you can see the many different buttons that we offer. I think everyone's favorite buttons so far are the "Heart Anatomy" and the "Squad Goals". These are a great inexpensive item to offer as freebies at class or events.
Our newest novelty item is the unusual yet fun CPR manikin keychain. This keychain comes with a slot in the back to place identification or even put a picture. This has been my personal favorite so far!
If you are a CPR instructor or an advocate of CPR training any of these items would be a wonderful to handout and promote CPR. Make yourself memorable with something fun and different.
We would be more than happy to send a sample of one of these items to you. If you are interested please contact Lora at sales@mcrmedical.com. Also, if you have any questions about any of our products, please contact us at the above email or call us at 614-782-2100.