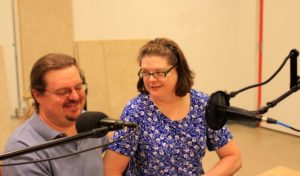 If you've had the pleasure of meeting small business MCR Medical owners, Karen and Charlie Morrison, then you already know the type of people they are. First of all giving doesn't even begin to describe them individually or as a couple. 
One organization that is near and dear to our owners is the Women's Small Business Accelerator located in Westerville, Ohio. WSBA is a non-profit organization focused exclusively on women who, while the largest percentage of small business owners, still lag behind men in average sales, employee numbers, and securing funding. 
As a result the accelerator offers approximately 35 office spaces, including private offices and cubicles, available to women-business owners at or below competitive market rates.
The Women's Small Business Accelerator also provides mentoring through monthly, facilitated peer-to-peer roundtables and training classes over a variety of topics ranging from writing a business plan through operational topics that assist business owners in expanding their businesses past the start-up phase. 
Recently, a WSBA participant wrote to Columbus Business First Magazine. We wanted to share it with you.
Dear Editor,
Last week's edition had a terrific article regarding alternative
funding sources for central Ohio start-ups.  For entrepreneurs with
visionary ideas, it's great to know there are options outside of
traditional funding.  
Business First does a fantastic job of covering central Ohio's
start-up community, trends, and resources.  However, there is one
resource that continues to be a best-kept secret; the Women's Small
Business Accelerator.  The WSBA is a 501(c)(3) nonprofit
located in Westerville.  Its mission is to assist all central Ohio
women business owners, regardless of net worth or education level, in
starting and growing their businesses through education and mentoring.
I was fortunate enough to be one of the many women to receive the
support of the WSBA, mine through a six-month intensive course called
"Inspired Entrepreneur."  At the end of the program, my five peers and I
graduated with a fully-vetted business plan,
rigorous analysis of our concept, strategy and execution plan, as well
as feedback and practice on our "pitch."  Adding to our confidence after
graduating is knowing we have an army of successful women business
owners who are committed to helping us achieve
our vision.  (Note:  many of WSBA supporters are on your various "Top
Lists.")
This program wasn't for the faint of heart; since my peers and I
received a sponsorship,  our responsibilities and expectations were made
clear.  The WSBA is earnest in its desire for our success and likewise
expected us to take their investment in us
seriously.  We did.  Our instructor/mentor throughout, Mary McCarthy,
(co-founder) offered us tough empathy during the program to ensure we
beat the statistics while also understanding the challenges facing
female entrepreneurs.
My peers, a diverse ethnic and age group, were pursuing ventures
in very different areas, yet we were on the same journey and became a
close-knit group able to celebrate each other's successes and pick one
another up during those moments of fear/frustration/momentary
setback.
The WSBA is a resource that needs to be shared, discussed and
supported.  I accidently learned about the program when someone
suggested I connect with Caroline Worley (founder) in my early
networking phase.  It should be no accident for women, like me,
to learn of this gem of a resource.   Perhaps you'll send someone to
learn more at next week's annual fundraiser, Starting the Conversation,
on October 27th, and then add the WSBA to your list of valuable
resources in the future.
Best,
Jennifer Dally
Founder & Chief Attunement Officer
Attune Marketing Group
If you would like more information concerning WSBA, please visit their website at wsbaohio.org.
We hope this blog will encourage other businesses to consider giving to this organization and other groups who support women in small business.